Memorial Day reminds us to recognize and honor those who protect and serve our country (Thank you!), but it also serves as the unofficial start to summer. The highly anticipated long weekend, is usually spent with bbq's, parades, beach trips, and outdoor activities. If you're looking for something different, make the most of it with the tips below of things to do in the Philadelphia Area!
Longwood Gardens: Fanfare and Fountains
May 28th
Longwood Garden's season of celebration kicks off this Memorial day weekend. The fabulous effects of the Main Fountain Garden will include the majestic Fanfare for the Common Man to Etta James' iconic At Last. Bring your own chair to the lawn beginning at 5:30pm but the line usually starts at 4:30pm.
Location– 1001 Longwood Rd, Kennett Square, PA 19348
https://longwoodgardens.org/events-and-performances/events/fireworks-fountains-shows
Sesame Place: Elmo's Memorial Day Weekend Celebration
May 27th & 28th (Show starts at 9:00pm)
Kids will love Sesame Place's Memorial Day weekend fireworks show. Make a day out of it and attend their Memorial Day Weekend BBQ. Followed by a Neighborhood Street Party at 3pm and 8:30pm. Entry into Sesame Place will be limited to 5 minutes prior to the start of the fireworks show.
Location– 100 Sesame Rd, Langhorne, PA 19047
https://sesameplace.com/en/langhorne/events/memorial-day-weekend-celebratio
Kennett Creamery Re-opening
Friday May 26th
Visitors will love the new re-purposed industrial space, enjoy craft beer, good wine, play games, hear live music, dine at food trucks and experience local art in the creamery's family and dog-friendly environment.
Location– 401 Birch St, Kennett Square, PA 19348
HoagieNation Music Festival
Saturday May 7th (Doors open at 2pm)
HoagieNation is a music festival celebrating all things Philly. Headlined by Philadelphia's own Daryl Hall & John Oates as well as many other artists. The music festival takes place at Festival Pier at Penn's Landing on the Delaware River Waterfront. There will be a variety of local food and merchant vendors on-site for your eating and drinking pleasure.
Location– 601 N Christopher Columbus Blvd, Philadelphia, PA 19123
Blue Cross River Rink SummerFest
Opens May 26th
With the Winterfest season being officially over, Summerfest begins this Memorial day Weekend! The once ice skating rink is transformed into a roller skating rink and summer playground. Admission to the rink is $3 and roller blade rental is $10 per person. The Summerfest is debuting a nine-hole mini-golf course that will be located right next to the roller skating rink. Each of the nine holes have been designed by a local artist with recycled materials. Mini-golf costs just $5 per person for each game. The urban beach area will overlook the Delaware River, complete with lounge chairs and beach umbrellas to make you feel like you are at the beach with a city skyline in front of you.
Location– 101 S Christopher Columbus Blvd, Philadelphia, PA 19147
http://www.delawareriverwaterfront.com/places/blue-cross-riverrink-summerfest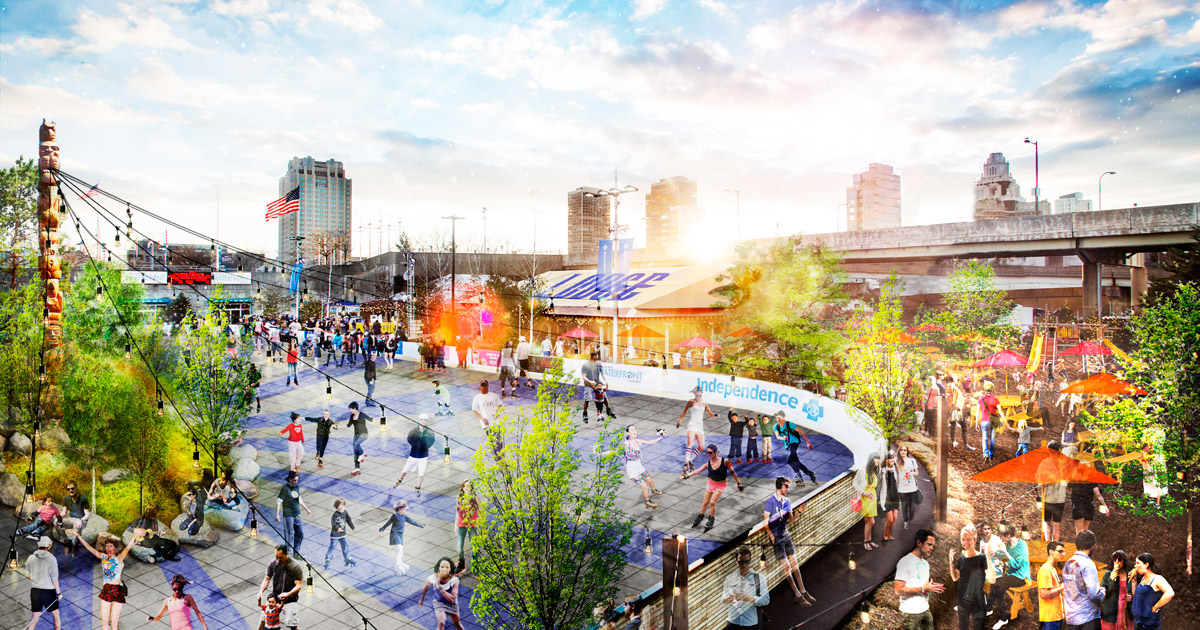 Penn's Landing Waterfront Day
Sunday May 28th
A number of attractions along the Penn's Landing have joined forces to present the first ever Penn's Landing Waterfront Day, an all day celebration featuring live music, pop up beer garden, attractions, vendors, and a huge fireworks show above the Delaware River. Not to mention the event is completely free for all to attend.
Location– 101 Columbus Boulevard Philadelphia, PA 19106
https://www.spiritcruises.com/philadelphia/cruises/specialty/waterfront-day?loc=feat&1